Assalamualaikum peeps!
Lama tak update cerita psl Adam Harith. He's now a year already. Cpt sungguh msa berlalu kan. Adam dah pandai berjalan. B4 birth date, dia juz blh melangkah 1 step je lps tu jatuh dan terus merangkak. But after his birth date dah jauh dia berjalan. Wow ammi sgt teruja la adam. Keep it up boy! Mulut lak usah ckp la, mcm mulut murai ntah hape2 la yg dsembangnye. Mcm paham je ape org ckp kan.
Masa check up last monday, berat adam naik. Dr 9kg ke 9.35kg. Adam dah tak amok dh. Myb sbb dh beso, nak melasak je kan.
Balik kg last week msa kenduri sambut puasa smptla jugak wat birthday party adam tp in-advance la coz adam birthday on 26/7 tp kitaorg celebrated awal sbb 26 tu hari selasa.
Sempat lg gi karok... Kalau blk ipoh dan berkumpul ramai2 tu x sah klu x karok. Actually nk main bowling tp penuh...2 xtvt ni adlh wajib klu blk ipoh :)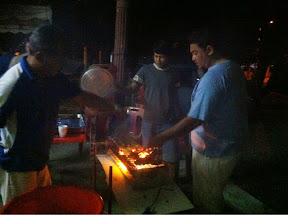 Malam brulah mjlis birthday si gemuk tu. Ada bbq skli....
Us with birthday boy
masing2 nak potong kek :P
Tq achu sponsor cake ;)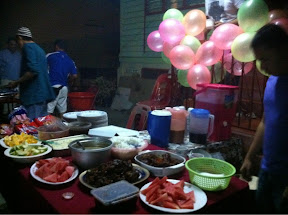 Happy 1st birthday adam harith, ammi luv u. Be a good boy ok!
- Posted using BlogPress from my iPhone